Kul att Anna-Lena från Search Magazine är och testseglar för SCA. Det är väl rollen som mediaperson som är aktuell och jag hoppas verkligen hon lyckas. Det är väl formellt VOR som anställer MCM (Media Crew Member) i nästa rave, men det skadar nog inte om teamet har en kandidat?
Team SCA testar fyra nya kandidater
I sökandet efter bästa möjliga kappseglingsbesättning till sin Volvo Ocean Race-satsning kommer svenska Team SCA nu att testa fyra nya kvinnliga kandidater. Därmed har totalt 17 seglare varit på teamets träningsbas i Puerto Calero på Lanzarote för tester och träning.

De som nu ska testas under tio intensiva dagar är svenska Anna-Lena Elled, holländska Annemeike Bes samt de två spanjorskorna Tamara Echegoyen och Natalia Via-Dufresne.

– Vår intention är och har hela tiden varit att hitta det bästa möjliga kvinnliga teamet. Hittills är vi mycket imponerade över den standard och det kunnandet de tidigare kandidaterna visat. Och jag är säker på att den nya gruppen inte kommer att göra oss besvikna, säger Brad Jackson som är en av coacherna som ska träna och testa kandidaterna.

– Vi tittar givetvis på varje kandidats rena seglingskunskap och erfarenhet. Men lika viktigt är hur de passar in i teamet. Vi är väl medvetna om att den här tävlingen ibland kan vara mycket krävande – både fysiskt och psykiskt. Och det är oerhört viktigt att besättningen tillsammans kan lösa alla svårigheter ombord.

Förhoppningen är att de första besättningsmedlemmarna kommer att presenteras under april och hela teamet kommer att presenteras senare under året.

Stockholm den 7 mars 2013

Det bifogade fotot får användas fritt, redaktionellt, ange fotograf: Rick Tomlinson.

För mer information, kontakta gärna Team SCA:s presschef Mats Olsson, mats.olsson@atlant.org, +46 70 633 61 30.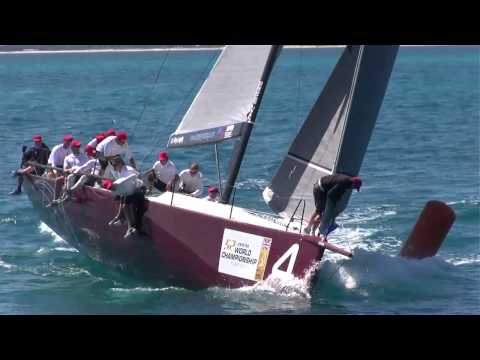 Rán ligger 3:a med serien 7-1. Fina förhållanden i Miami.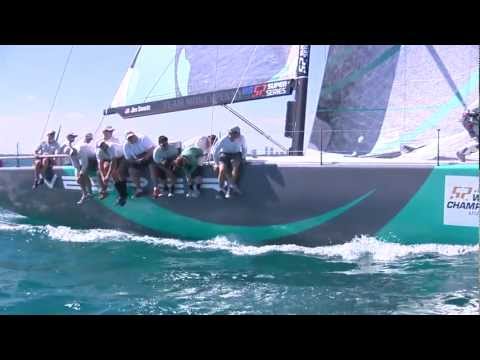 F18-seglaren Jonas Frii tog sig ner till Garda för att provsegla M32.
Vi var lite oroliga för vädret. Men helt i onödan…
Hey, we have all seen the M32. Reasonably cool boat for sure. But how does it feel? Can it do wind? More importantly, does it fly? As keen and rather lazy F18 sailor I was very glad to be able to spend some time on Lake Garda to try out the M32 with Fredrik Lööf, Martin Strandberg, Lotta Harrysson and Andy. Conditions were wet and sometimes horrendous. The company of the friendly team and the Italian food made it all worth it. And more.

This thing flies. We sailed it in windy conditions with two reefs and accordingly no kite (not that it wasn't considered the mast simply isn't up for it with two reefs in the main). The boat feels rock solid and very stiff. It somehow hovers over the chop. Not on any occasion did we experience any diving tendency (not even on two reefs and full bear away).

If you put the daggers down enough on the downwind you can for sure trigger foiling (and only the future will tell what is fast and not. I am sure the crews will have a blast finding out.) One day we sailed the M32 back-to-back with a F18 and never ever have a F18 felt so small and wet. I would say the M32 probably can deliver passion just like something street-legal on four wheels from Italy (and I am not thinking of Fiat save for perhaps their ownership..).

This cat takes a bit more effort (and money) than other rides, but at the end of the day when everything comes together.. Magic, passion and fun.