Det är ju hur coool som helt att Dorade vann årets Transpac, 2.225 distans från Los Angeles till Hawaii. På bilden vann man samma race 1936 – och 77 år senare gör man om samma bedrift. Många var så klart tveksamma om det var en bra idé att köra ett så här tufft race med "möbel", men jag tror inte någon tvekar längre. Nu skall man följa upp med Newport Bermuda Race, Transatlantic Race och Fastnet.
Man seglade på 12 dagar och 5 timmar vilket är drygt ett dygn snabbare än 1936, men man lyckades inte slå 24-timmarsrekordet från den tiden.
Här är en bra artikel från NY Times – 77 Years Later, Yacht Repeats Win in Trans-Pacific Race
Jag tycker det är kul när gamla båtar seglas på riktigt, och inte bara ser snygga ut vid kaj. Speciellt när man kör tuffa race mot skarpt motstånd och inte bara classic-regattor med paraplydrinkar. Vi har ju ett svenskt parallellfall i Refanut, som ju har kappseglats flitigt framför allt på shorthandedracen. Och mycket framgångsrikt. All cred till Fredrik Wallenberg som rastar familjeklenoden.
Båda båtarna är klassiska Sparkman & Stephens-konstruktioner, även om det skiljer några år mellan dem. Kul också att båda projekten är duktiga på att kommunicera online med bra bloggar; Dorade & Refanut.
Sparkman & Stephens – design 7 – Dorade
On July 21, 1931, a sailing yacht named Dorade crossed the finish line a full 2 days ahead of the fleet of larger yachts competing in the Transatlantic Yacht Race of that year. This was obviously a major boost for a young company with a fledgling young designer named Olin Stephens, age 23 at the time.

Sparkman & Stephens – design 1104 – Refanut
This has to be one of the prettiest S&S boats of all time; Refanut. She was built by the Bengt Plym yacht yard of Sweden and launched in 1955. Her design brief was simple: she was to be the fastest yacht in Sweden.
Vad händer den här veckan i seglingsvärlden?
Årets höjdpunkt i England är så klart Cowes Week. I Louis Vuitton Cup är det lite paus innan Artemis skall upp till bevis 6/8.
På hemmaplan är det ORCi EM i Sandhamn, Hermanö Runt och SM i C-55. Och så fortsätter seglarveckan i Båstad.

Just nu 43 50 båtar vilket är fler än förra året vid samma tid. Gissningen just nu är +60 båtar och vädret ser ju ut att bli lika bra som vanligt. Anmälan på mail till Hans Abrahamsson
UPPDATERING 130729:
Seglingsföreskrifter v1
Banskiss
Starttider
Anmälan Hermanö Runt 3 aug 2013
v4, onsd 31 juli 2013
Nr Namn Båttyp Båtnamn SRS tal
1 Kjell Jonsson Beason 24 Biscvit 1,020
2 Hans Oskarsson Accent 1,036
3 Johan von Otter Accent 1,036
4 Joakim Axelsson Minicompis VildaVilja 1,042
5 Staffan Cederlöf Compis 28 1,057
6 Ulf Björklund Compis 28 1,057
7 Martin Ekhed Chess 1,067
8 Urban Lang Drake s/y Signe 1,072
9 Tommy Strandberg Scampi Fanny 1,075 E5099
10 Fredrik Kullenberg H-båt 1,076
11 Jonas Oscarsson Maxi Magic Strajpless 1,084
12 Ola Magnusson W30 Kompromiss Minandra 1,091
13 Ulf Danielsson Albin Alfa Sälta 1,092 E3633
14 Göran Johnsson Murena 1,097
15 Mats Andersson NF Matilda 1,103
16 Rikard Bensryd Omega 30 Marion 1,112 E5082
17 Hans Caspersson Omega 30 Lova 1,119 E4732
18 Björn Wahlström IOD 1,122
19 Urban Ristorp IOD HVID 1,122
20 Reine Larsson IOD Grace 1,122
21 David Selvert Maxi Racer Eldvatten 1,127
22 David Mikkelsen Maxi Racer 1,127
23 Gillis Wendt Maxi Racer Prudence 1,128 E5179
24 Jan Augustsson Optima 101 Glymur 1,148 E4456
25 Peter Karlsson Banner 30 1,154
26 Bo Callenberg X-302 Intermezzo 1,155
27 Mattias Mellström Café 28 Cat Noir 1,164 E3289
28 Frida Olsson Smaragd Jackpot 1,169 E3598
29 Pär Bäck CB 66 1,178
30 Erik Larsson CB 66 1,178
31 Magnus René CB 66 1,178
32 Max Samuelsson Smaragd Gullan 1,190
33 Stephan Wilck Smaragd 1,190
34 Tomas Rejvik Omega 36 1,192 ej spin
35 Christian Lundwall J/70 1,197
36 Anders Eklind J/70 Solange 1,197
37 Dick Söderberg J/80 1,198
38 Peter Dahl Maxi 1050 Tiny 1,212
39 Ulf Jacobsson J/97 Jesus for life 1,224 E4169
40 Bertil Rohlén X332 X3M 1,230 E4938
41 Thomas Dahl / Persson Dehler 33 Cr Angels share 1,235 E5219
42 Stephan Berntsson First 30 JK EIRA 1,239 E4354
43 Peter Amundin J/92 S Ninja 1,241 E5080
44 Andreas Rejvik J/92 Jalla 1,246
45 Stefan Möller Swedestar 370 Stella 1,247 E4530
46 Thomas Ottosson Norlin R7 Särimner 1,247 PREL.
47 Håkan Larsson X-99 Xenie 1,253
48 Jonas Liljeström X-99 Kattaja 1,253
49 Gunnar Ahlström Hanse 371 1,256
50 Evan Thorsson Gambler 38 Cheetah 1,256 E4587
51 Lars Niklasson First 36,7 RACCOON 1,267 E5072
52 Lars-Gunnar Gydemo First 36.7 CAJO 1,270 E4552
53 Björn Lager Melges 24 1,273
54 Carl Turén First 35 Nausicaa 1,280 E4529
55 Carl Fjällman First 35 Rebellion 1,281 E4812
56 Krister Gustafson First 35 Elusive 1,282 E4901
57 Sten Haeger First 35 Kwanza 1,284 E4593
58 Tommy Björkqvist X-37 Xanadu 1,293 E4718
59 Ewa Samuelsson HP1030 HorsePower 1,297 E3827
60 Lars Wikander Finn Flyer 36 Zlatan 1,319 E4704
61 Björn Rosengren X-35 X-Ray 1,331
62 Roger Ahlqvist Mumm 36 AERO 1,336 E4213
63 Hans Granhed Finnflyer 36 maniX2 1,339 E5274
64 Hans Johansson XP-38 BlueS 1,348 E4600
65 Peter Örtendal / Martin Persson IMX 40 Gertrud 1,371 E2119
66 Peter Gustafsson J/111 Blur 1,383 E4528
En officiell/kontrollerad startlista kommer att ges ut på fredag 2 aug.
Lite inspiration från 2009: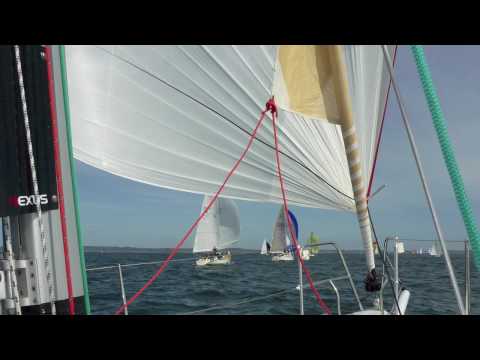 Just nu bara 8 båtar anmälda till Marstrandsregattan. Bra kvalitet, men det behöver ju bli runt 20 för att det skall kännas vettigt? Sista anmälningsdag är på onsdag 31/7.
Arcona 410 DAD Sportswear 1.374 Anders Nordström GKSS
Bavaria 38 Match Draklunne 1.312 Mattias Wilson GKSS
Finn Flyer 36 Zlatan 1.319 Lars Wikander GKSS
First 35 Kwanza 1.284 Sten Haeger GKSS
J/111 1.383 Blur Peter Gustafsson SSVÄ
IMX-40 1.371 Gertrud Peter Örtendal GKSS
SwedeStar 370 Stelle 1.247 Stefan Möller KMS Nordön
Xp 33 Coquette IV 1.273 Anders Kuikka GKSS
Som vinnare i Round Robin kan ju ETNZ välja hur man vill göra. Gå direkt till final eller möta någon av de andra i semi. Det finns för- och nackdelar med alla varianter. Att möta Artemis direkt hade kanske varit bästa sättet att bli av med dem, otränade som de är, men samtidigt så riskerar man ju mer.
Vad tror ni?
Decisions, decisions.

With an unassailable lead in the Louis Vuitton Cup Round Robins, Emirates Team New Zealand has earned the right to choose its path forward. The team can elect to advance directly to the Louis Vuitton Cup Final, or choose its opponent for the Semi Final, handing the bye to the Final to the third team. The Kiwis are expected to announce their intention tomorrow (Sunday).

Each option has its own risk and reward, as detailed below.

1. Emirates Team New Zealand chooses to go the Final, leaving Artemis Racing and Luna Rossa to race the Semi Final.

The Risk: In a sporting sense, this is the low risk option, but there may be another factor to consider (see bottom of story). As such this is the route most observers expect the Kiwis to take. The Emirates team avoids the risk of damaging its boat during Semi Final racing and being unable to advance.

The Reward: Direct access to the Louis Vuitton Cup Final, and one less step to take on the way to the America's Cup Match.

2. Emirates Team New Zealand chooses to face Artemis Racing in the Semi Final, leaving Luna Rossa to advance directly to the Final.

The Risk: With Artemis Racing just back on the water, the risk of the powerhouse Kiwis losing a Semi Final to the Swedish team is small, but not zero. Damage, injury, collision, etc. could all derail the Kiwi challenge BEFORE they even get to the America's Cup.

The Reward: From a sporting point of view, Emirates Team New Zealand gets some more race practise in. There is a political component too (see below).

3. Emirates Team New Zealand chooses to face Luna Rossa in the Semi Final, leaving Artemis Racing to advance directly to the Final.

The Risk: Same as for option 2.

The Reward: Hard to see one for this option so this is the least likely scenario. In terms of race practise, there is little to gain as they've already faced Luna Rossa and won decisively in the Round Robins. Emirates Team New Zealand has also had a symbiotic relationship with Luna Rossa, selling the Italians design info and then training together, so it's nearly impossible to imagine the Kiwis working against the Luna Rossa team in this way.

The political dimension

This is the America's Cup, so a decision like this is never entirely about the sport. There may be another consideration for Emirates Team New Zealand.

Artemis Racing is the current Challenger of Record. As soon as they are eliminated from the Louis Vuitton Cup, Emirates Team New Zealand assumes that position (the role gets passed along in order of challenge).

The Kiwis may see an advantage in assuming Challenger of Record status sooner rather than later. According to the Protocol, the Defender "and the Challenger of Record may amend (the) Protocol with the approval of a majority of the Competitor Forum."

That means changes need to have the blessing of a majority of competitors including BOTH the Defender and the CoR.

So, IF the Kiwis choose to advance to the Final and IF Artemis Racing were to beat Luna Rossa in the Semi Final, Emirates Team New Zealand may feel vulnerable to being unable to control any changes to the Protocol that Artemis Racing and ORACLE TEAM USA want to make. Once the Emirates team is the Challenger of Record, it has more control over any Protocol changes.

For all that, it would be a surprise to see Emirates Team New Zealand not choose to advance to the Final. The risk of racing in the Semi Final is likely too great.

Risk vs. reward. It's a hallmark across all aspects of the America's Cup. We'll see what the Kiwis decide, perhaps as soon as tomorrow (Sunday).

- Peter Rusch

Lite mer teknik är på ett vanligt startfartyg… Lite lustigt att det ändå skall till en hagelbrakare för att skjuta startskott.