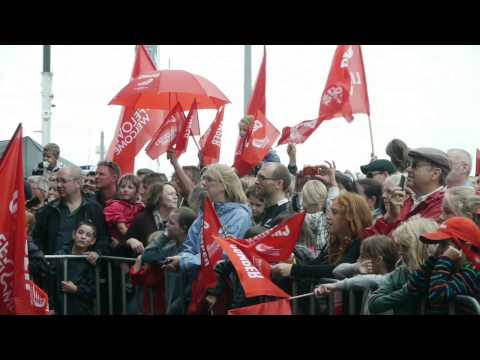 The adventure started on November 5, 2011. The Volvo Ocean Race sails from Alicante, Spain. Ahead lie 39,000 nautical miles of racing — racing hard through boat-breaking ocean storms and trying to keep the boat moving through sticky, super-heated days and nights in the calms of the dreaded Doldrums.

This is the CAMPER with Emirates Team New Zealand story — a massive never-say-die effort by sailors, shore crew, and support to achieve a fighting second place. On board journalist and cameraman Hamish Hooper recalls the highs and lows of this epic race. Skipper Chris Nicholson takes up the story to provide an unique insight into the 2011-12 edition of the greatest of all ocean race.

Ocean Racing är ju den engelska versionen av franska Course Au Large. Och det allra bästa var att man läste den gratis på webben. Nu har de dock flyttat den till iPad (eller Andrioid) och bestämt sig för att ta 49:- per nummer.
As the Vendee Globe sailors enter the Pacific, in the latest issue of OceanRacing we look at life in the southern ocean and find out what can be learnt from the first few weeks of the race. With so many boats forced to retire so soon after the start, OceanRacing asks whether assistance should be allowed in the non-stop, solo round the world race. Looking towards the future, we examine the latest developments in the IMOCA class, which has just signed an agreement with Sir Keith Mills to ensure its commercial development. Has the America's Cup bitten off more than it can chew with the AC72? Too expensive, too risky? What next? Just a few of the questions we attempt to answer this month. Staying with multihulls, Lionel Lemonchois tells us all about his new maxi. If you enjoy a good read, you'll certainly enjoy the extracts from Kito de Pavant's book, which you can discover in the latest issue of OceanRacing.
Det är inte helt lätt att hitta affärsmodellerna online. Sail Racing Magazine som skulle vara iPad only har ju haft uppehåll ett år men skall göra comeback både på iPad och på webben.

Som vanligt är det fullproppat med bra artiklar. Just nu mycket om Vendee Globe. Klart läsvärt.

Man har också en bra artikel om nya båtar i de olika klasserna i IRC. De brukar också vara duktiga på att gissa IRC-tal, så så jhär kan det se ut för ett antal nya båtar:
Grand Soleil 43 ~1.115 (SRS ~1.395)
Sun Fast 3600 ~1.040-1.050 (SRS ~1.30-1.31)
JPK 10.80 ~1.050-1.060 (SRS ~1.325)
Salona 35 ~1.004 (SRS ~1.255)
Dufour 36 ~1.030 (SRS ~1.29)
Xp 33 ~1.026 (SRS ~1.28)
First 30S ~1.020 (SRS ~1.275)
Det verkar också som det kommer en ny variant av First 30:
THE FIRST 30S IS ANOTHER NEW PRODUCT
FOR 2013 THAT YOU WON*T SEE IN PARIS

It's an updated version of the 30-footer that was dominated by other boats of that size this year. With her pride wounded, the builder based in Vendee, who rather disappointed us with this Juan K design (although he was the designer behind Groupama 4) decided to launch a limited series with the same hull, but aimed at the S version. The differences from the original model racing in the IRC Group of 1.000 are that we are looking at a sandwich construction of infused balsa/vinylester to save weight and offer stiffness, while the original boat was in monolithic injected carbon and had a keel made of cast iron I lead. There are simplified and lighter fittings (bulkheads in sandwich too) as well as changes to a lot of the rigging and sails. "The fact that the stay was shifted back and the size of the sails reduced meant we gained many thousandths" explained Philippe Massu, who managed last year to improve the performance of his First 30 in association with Beneteau, Michel Desjoyeaux and the designer. In Beauvoir, they have understood that the idea of winning races with racing cruisers "straight out of the works" (as was the case with the 31.7) was no longer possible with the competition now in place. The price of this First 30 S which wi ll be on sale from the spring will be around 119,000 euros incl. tax without gear.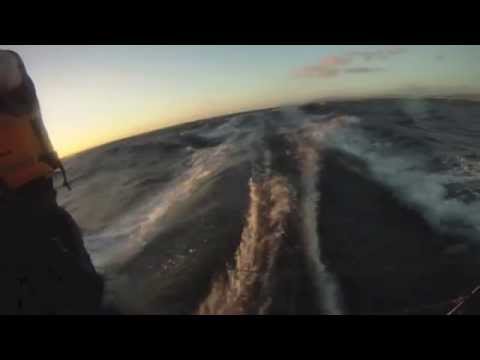 Kan man få för mycket av galna undanvindsrepor? Toppfart blev tydligen 22.8 knop. Att ha Plastic Bertrand som soundtrack är ju en kul bonus.
ABSTINENS!!!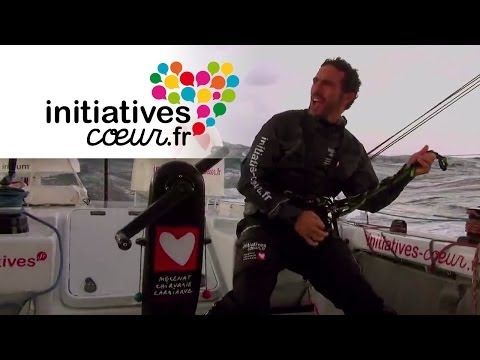 Full skärm och volymen på högsta, det är fredag och världen gick inte under i dag heller.
Kul att SVT snappade upp detta:
Här slår det slint för seglaren

Helt ensam, på en båt, utlämnad till elementen, hundratals mil hemifrån, någonstans på oceanen.

Det är kallt, blåsigt, dina vänner och familj förbereder sig för fest hemma.

Men är tävlingsseglaren Tanguy De Lamotte deppig eller hängig?

Inte direkt.

Han slänger på lite klassisk Deep Purple på högtalarna och skapar sin egen rockhimmel. Och ingen granne lär klagar på ljudet.

Det var ju klart att Ken Read hade tagit över ett antal båtar till USA, och här kommer lite mer information. Nu får Marström jobba hårt för att få fram båtar både till Ken och M32 Cup… Foto: Marco Oquendo.
Marstrom 32 (M-32) Finds a Home in US

In what is hoped to be the first of many sailing centers in the US, the M-32 Catamaran will take roots in Newport RI starting in the Spring of 2013. Volvo Ocean Race superstar Ken Read has lead an initial group of 5 owners purchasing M-32′s. Catamaran sailing looks to be here to stay, on the heels of the phenomenal success of the America's Cup World Series event held in Newport last summer.

"I want to go sailing for fun again and after the Volvo Race our team had a chance to sail the M-32 while visiting sponsors in Gothenburg. Quite frankly, I fell in love with the boat, its simplicity and its speed, and really hoped that other sailors in the area may want to share in the fun. And after sending out an e mail to a few friends I was thrilled to see that many others were thinking the same thing!"

"What an opportunity for the M-32″ stated Goran Marstrom, designer of the M-32 and founder of Marstrom Composite. "We have always thought that the simplicity of the M-32 would be a major selling feature when it came to bringing in new Catamaran sailors, and it appears that it has worked. Of course internally we are most proud of the full carbon fiber construction including as well a high amount of high modulus carbon fiber and the forgiving hull shapes that allow the boat to sail at high speeds with a forgiveness that is very uncommon to multihulls."

Since the word has gotten out that the M-32 is in North America to stay, many different sailing area's around the US has been in touch with Marstrom to consider setting up local classes. "We are excited and amazed at the same time that the interest appears to be very real in the US" said Hakan Mann, head of sales for Marstrom. "The goal for this class is for fun local sailing to be a focus first, then build a national class once the interest is there. Newport, for example, has already planned two different sailing evenings locally during the summer- Monday and Thursday- to allow the boats to sail as much as possible".

"Our goal is to get kids and adults alike exposed to modern day speed sailing with the M-32″. explains Read. "With only 4 crew needed and with crew weight not being a critical issue on the rail, we are about to re invent sailing for fun. Its about time that uncomfortable hiking over lifelines is made obsolete. It is killing the sport to be honest. Lets have fun sailing again, be athletic, but at the same time not create an environment that is as uncomfortable as can be. I think the M-32 does all of this."
Nu börjar vi få koll på vilka som skall segla ÅF Offshore Race Doublehanded. Listan finns nedan. Så det är inget snack om att det blir en klass. Och en av de tuffare utmaningarna 2013?
Dagmar Dehler33 cr Marcus Österberg
Enjoy J/105 Magnus Stålgren
Grym Arcona 340 Lars Rönnberg
Ingeborg Swan 36 Kristoffer Wendelin
Liv Arcona 400 Fredrik Rydin
Mia-T First 36.7 Johan Lindskog
Mithril One-Off Henrik Borg
Ottilia 2 af Petersburg Grand Soleil 37B Inge Carleson
Pac-Man B&R 38 Jimmy Hellberg
Paxton Pacer27 Ulf Brändström
Santana Linjett 35 Björn Dannberg
ScampiJubilee Scampi spec 1/2 ton Per Hansson
Serendip Prima 38 Pär Lindforss
Sonic Boom First 31.7 LR Mats Söderberg
Spirit Baltic 50 Erik Lindgren
Vendetta MUMM 36 Berton Augustsson
Midvinternattens köld är hård.
Sjöns is ligger blank som en spegel.
Seglaren sover i enslig gård.
Han drömmer om svällande segel

Skummet fräser på varje våg,
vinden viner i mast och tåg
kölvattnet brusar kring aktern.
Själv har han första vakten.

För alla er som inte kan tänka er något roligare och mer utmananade än gå till sjöss med en god kamrat som ända hjälp ombord finns det ytterligare en chans nästa sommar. Efter en uppvärmning (eller kanske nedkylning) på Watski2Star så har ni chansen att även se utsidan av Gotland. Båt och säkerutstrustning har ni ju redan, men är ni redo för 440 distans utan avbrott. Det finns bara ett sätt att få reda på det.

2013 får double-handed seglarna en egen klass i ÅF Offshore Race. Alla detaljer är ännu inte klara, men följande vet vi.

Double-Handed klassen får en egen start på söndagen (nästan 100% klart med söndagsstarten, definitivt egen startgrupp)
2012 visade några double-handed seglare att de kunde konkurrera med båtar med full besättning (till antalet fulla antar jag). För att inte gå miste om samma chans i år så används double-scoring där double-handed båtarna också räknas in i SRS totalen.
Då en av tjusningarna med short-handed segling är ungänget mellan båtarna så kommer vi att lägga alla double-handed båtarna tillsammans i Stockholm före start (så långt det är möjligt).
Inofficiellt No-Crew party på bryggan!
ÅF Offshore Race ingår i No-Crew rankingen.
Fram till den 31/12 är anmälningsavgiften kraftigt rabatterad (30%). Så här lite har man inte betalat för att segla Gotland Runt på väldigt, väldigt länge.

Anta årets shorthanded utmaning och föranmäl er här. Ange gärna "double-handed" i Övrig Informations fältet på anmälningen.

Om ni har generella frågor om Double-Handed ÅFOR är ni mycket välkomna att kontakta mig. Frågor rörande No-Crew rankingen ställs bäst till Jimmy, Pär och Ulf (no-crew gänget).

Fredrik Wallenberg
KSSS Havskappseglingskommitté